I just
received
this email from Six Flags Great Adventure about how the are
opening
and
dealing
with
Covid-19. I wonder if this will be how concerts ans sporting events
will eventually end up. And they say
contactless entry.
What about security going through bags? Oh yeah..they figured it out. It's in the video.
will use this tech.
This document is a summary of the key program components as of May 15, 2020. The plan is a living document that
will be adjusted as needed based on the implementation of new programs, guidance from the CDC or mandates from federal,
state and local government agencies.
General Protocols
Require Guests to follow our Robust Health Policy
Prior to visiting the park, all guests will be asked to carefully review our health policy, which requires all attendees to
have been healthy for at least 14 days prior to their visit.

Require all Guests and Team Members to Wear Masks
All guests over the age of 2 and all team members will be required to wear face masks covering the nose and mouth
throughout their time on the property (exceptions apply in pools and on waterpark attractions). Mask Break Zones are available.
Conduct Non-Invasive Temperature Checks on Guests
We will be using state-of-the-art temperature reading technology designed to provide an efficient guest experience.
Check the Temperature of Employees
Team Members will be screened for high temperatures when they arrive on the property.
Social Distancing Protocols
Control Daily Park Capacity
We will be controlling the maximum daily attendance at each of our parks to maximize the space available to each guest.
Implement a New Park Reservation & Contact System
To reduce congestion at the front gate and to ensure a great experience for all visitors, we'll be implementing a
web-based reservation system for all guests.
Strongly encouraging guests to purchase parking in advance
To reduce the use of cash and thereby minimize onsite transactions, all guests will be strongly encouraged to
purchase their parking from our website before they arrive at the park.
Promote 6 ft Separation in all Queues
We'll have clear markers in all of our park entry, ride, restroom and dining queues to help guests keep a safe
distance from one another. Roaming personnel will monitor the queues to ensure that the social distancing is promoted.
Promote Guest Separation in Seating Areas
Our dining and water park seating areas will be reconfigured to encourage plenty of distance between
seated parties. In areas where strangers are seated together, seats will be removed or blocked off to promote
a clear 6-foot gap between guests.
Separate Guests on Rides & Attractions
We've developed custom plans for each of our rides and attractions to minimize contact between parties and
follow social distancing guidelines. Strategies for separating guests include empty rows and leaving empty
seats between guests in ride vehicles.
Promote Guest Separation in Water Park Changing Areas
We'll have clear markers in our water park changing areas, changing rooms, and showering areas to facilitate social distancing.
Reduce Indoor Facility Venue Capacity
While most of the Six Flags experience takes place outdoors, we do have many indoor shops, restaurants
and service buildings. Capacity at each of these venues will be reduced to ensure that there is plenty of room for social distancing.
Separate Employees and Guests with Protective Equipment
We are introducing individual protection equipment at many of our food stalls to definitively separate guests from employees.
Minimize Guest Contact During Security Pre-screen
We will be using state-of-the-art technology designed to efficiently perform bag checks and metal detection with no contact.
Separate Guests in Entertainment Viewing Areas
Guests viewing entertainment, in the form of live outdoor street shows, fireworks displays, or
other people playing games, will be separated from the performances and each other by at least six feet.
Remote Classroom Training for Employees
Every employee traditionally undergoes a significant amount of classroom training. This will be replaced
with remote training whenever possible.
Sanitization and Disinfection Protocols
Introduce Cleaning Teams to Disinfect Common Areas
We are significantly increasing our efforts to sanitize and disinfect all high touch points, such as chairs,
tubes, benches, tables, cans, etc.
Provide Hand Sanitizer Stations Throughout the Park
We will have a large number of stations throughout the park offering free hand sanitizer to guests
Provide Hand Washing Stations for Guests Throughout the Park
We will provide guests with easy access to hand washing stations in the park's high traffic areas.
Continuously Monitor and Sanitize Restroom Areas
We will staff each restroom area with personnel who will disinfect all high touch point areas
within the restrooms on a regular basis.
Continuously Monitor and Sanitize Water Park Changing Areas
We will monitor and regularly disinfect all changing area high touch points including showers, shower curtains, and lockers.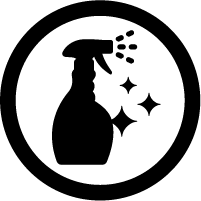 Continuously Sanitize & Disinfect Ride Units
Cleaning teams will spray or wipe down seats and restraints to give the riders a safe and sanitary experience.
Continuously Clean & Sanitize Employee Work Areas
Team Member work areas in both the back and front of house will be sanitized multiple times each
day according to CDC guidelines.
Encourage Hand Sanitization When Entering Ride Queues
To maximize the sanitization of our ride queue rails, we'll provide and encourage the use
of hand sanitizer at the entrance of all ride queues. Depending on the experience,
we'll also make hand sanitizer available at ride exits.
Provide All Team Members with Personal Protective Gear
Every employee will be provided a kit featuring a face mask, gloves and safety glasses to use during their shift.
Kits can be refreshed daily or as otherwise needed.
Priority Cleaning Regimen for All Dining, Cabana & Locker Areas
Trained, dedicated cleaning teams will continuously monitor and disinfect dining areas, cabanas, and locker areas.
Quarantine, Disinfect & Secure All Food Service Items
Following industry and CDC guidelines, all food service items such as napkins, food wrappings, condiments, and cutlery
will be accepted into our warehouse, quarantined, disinfected and secured prior to disbursement and utilization.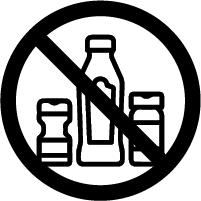 Eliminate Open-Access Condiment, Topping Stations
Ketchup, mustard and other condiments will now be securely stored and served to guests upon request.
Eliminate Self-Service Cutlery & Napkin Stations
Napkins, knives, and forks will now be securely stored and provided to guests with their meal, as required or on request.
Ensure that Only Unused Cups are Used at our Beverage Filling Stations
Guests participating in one of our food or beverage refill programs will receive new containers each time they fill. All beverages
will be disbursed by an attendant (no more self-service refills).
Eliminate Buffets & Ensure All Food Items are Shielded From Guests
In-park restaurants that hosted self-service buffets and salad bars will be reconfigured to eliminate guest contact with food.
Reconfigure Games to Allow for Effective Sanitization and Social Distancing
Game items will be sanitized between uses or, if that's not possible, guests will be provided with gloves
for each play. Group race games and arcade games will be reconfigured to ensure that guests are kept separate.
Signage, Communications, Training, & Guest On-boarding Protocols
Pre-visit Guest On-boarding Program
Guests with reservations will receive on-boarding information prior to their visit explaining how they can stay safe
and have a great day at the park by following our basic social distancing and hygiene guidelines. Program will
include emails, documentation and videos.
Newsletter Communication Program
Guest newsletters will regularly feature information about how to best plan for a visit to the park. Topics will
include new screening procedures, security screening procedures, mobile ordering program processes,
reservation systems, social distancing recommendations, disinfectant procedures, and more.
Social Distancing Messaging on Six Flags TV
Our in-park TV network (at most Six Flags parks) will feature regular messaging encouraging guests to social distance and
offering them tips on how they can stay germ free at the park.
Display Social Distancing & Hygiene Signage
Signage reminding guests to practice social distancing and good hand hygiene will be displayed conspicuously throughout the park.
Mandatory COVID-19 Training for All Six Flags Employees
We'll require all of our employees to participate in online training programs instructing them how to stay safe and keep
Six Flags 2020 Health & Safety Policy
IMPORTANT PLEASE READ CAREFULLY BEFORE ENTERING THE PARK
The health and safety of our guests is our top priority. We have implemented several measures that you will see in our parks which are each designed to protect Six Flags guests and employees from potential exposure to the COVID-19 virus ("Coronavirus"), by minimizing contacts, promoting social distancing and increasing sanitation throughout the park.
In addition, to further protect the health and safety of our guests and employees,
you will not be admitted to the park and you should stay home if within past fourteen (14) days you have:
Tested positive or have been deemed presumptively positive with the Coronavirus;
Sought testing to determine whether you might have the Coronavirus, and have not yet received the results;
Been informed that you may have been exposed to Coronavirus or learned that you have been in the immediate vicinity of a person now known to have been carrying the Coronavirus; or
Experienced any of the following symptoms commonly associated with the Coronavirus, including cough, shortness of breath or difficulty breathing, OR two or more of any of the following: fever, chills, repeated shaking with chills, muscle pain, headache, sore throat, new loss of taste or smell.
Prior to entering the park,
you will undergo a non-invasive temperature check.
If your temperature is 100.40 F or higher, you will be directed to one of our medical technicians to determine whether we can safely admit you to the park. No personal information or data will be recorded or retained in any manner in connection with this process.
Once you enter the park,
you must:
Wear your protective face mask at all times during your visit (other than children two and under); and
Adhere to the social distancing and sanitization guidelines posted throughout the park.
Six Flags reserves the right to modify these requirements on a case-by-case basis to accommodate any circumstance that in Six Flags sole discretion warrants a modification to this policy.
Six Flags cannot guarantee that you will not be exposed to Coronavirus during your visit.
The CDC advises that older adults and people of any age who have serious underlying medical conditions might be at higher risk for severe illness from Coronavirus. Guests should evaluate their own risk in determining whether to attend. People who show no symptoms can spread Coronavirus if they are infected, any interaction with the general public poses an elevated risk of being exposed to Coronavirus. By coming to the park, you acknowledge and agree that you assume these inherent risks associated with attendance.
If at
any
time Six Flags determines that a guest does not meet the criteria outlined in this policy, Six Flags reserves the right to refuse entry or (if the guest is already in the park) immediately remove the guest from the park. These actions are at the sole discretion of Six Flags.
By entering the park you acknowledge that you have read, understand and agree to abide by this policy.
If you have any questions, or if you do not understand the policy, please speak with guest relations.